FAIR Data Spaces News
Roadmap & Community Workshop
Nach fast eineinhalb Jahren FAIR Data Spaces bot sich Mitte September die Gelegenheit zu einem eintägigen Präsenzworkshop, in dem wir einen Blick auf den aktuellen Projektstand geworfen und die bevorstehenden Aufgaben diskutiert haben. Im zweiten Workshopteil gab es dann einen Austausch über weitere Vernetzungs- und Workshopmöglichkeiten. Nach einem produktiven Workshoptag mit regen Diskussionen freuen wir uns auf die kommenden Projektmonate mit herausfordernden und spannenden Aufgaben. Ein Blick hinter die Kulissen des Workshops findet sich auf unserem FAIR Data Spaces Twitter Account.

Roadmap & Community Workshop
After almost one and a half years of FAIR Data Spaces, the opportunity arose in mid-September for a one-day presence workshop in which we took a look at the current project status and discussed the upcoming tasks. In the second workshop part, there was then an exchange about further networking and workshop opportunities. After a productive workshop day with lively discussions, we look forward to the coming project months with challenging and exciting tasks. A behind-the-scenes look at the workshop can be found on our FAIR Data Spaces Twitter account.
 +++
Zusammenführung der FAIR Data Spaces Newsletterangebote
Ab dieser Ausgabe des Newsletters wird der FAIR-Newsletter des münsteraner FAIR Data Spaces Teams, welcher sich mit rechtlichen Entwicklungen rund um das FAIR Data Spaces Projekt beschäftigte, in diesen, Ihnen vorliegenden, FAIR Data Spaces Newsletter integriert. Wir freuen uns, Ihnen dadurch eine noch bessere Übersicht über unsere Projekttätigkeiten auf einen Blick bieten zu können. 

Consolidation of FAIR Data Spaces Newsletter Offerings
Starting with this issue of the newsletter, the FAIR newsletter of the Münster FAIR Data Spaces team, which dealt with legal developments around the FAIR Data Spaces project, will be integrated into this FAIR Data Spaces newsletter, which is available to you. We are happy to be able to offer you an even better overview of our project activities at a glance.
 +++
Die Konzeption von Musterverträgen
Das Institut für Informations-, Telekommunikations- und Medienrecht (ITM) aus Münster konzipiert derzeit Musterverträge, die zwischen den einzelnen Demonstratoren und Nutzern der FAIR Data Spaces geschlossen werden sollen. Dabei werden neben allgemeinen zivilrechtlichen Regelungen vor allem urheber- und geheimnisschutzrechtliche Aspekte adressiert. Exemplarisch seien folgende Fragestellungen genannt: Wem "gehören" die Datensätze? Wie weit reichen Nutzungsbefugnisse und inwiefern wird die Datennutzung kontrolliert? Welche Haftung besteht für fehlerhafte Daten? Inwiefern sind Vertraulichkeitsvereinbarungen notwendig und zweckfördernd? Diesen Fragen muss durch klare vertragliche Regelungen in den Datennutzungsverträgen zwischen Demonstratoren und Nutzern begegnet werden. Dabei gilt es zudem zu berücksichtigen, dass durch die Verknüpfung von Gaia-X und NFDI zwei divergierende Rechtskulturen vereinigt werden, die auch in juristischer Perspektive Unterschiede aufweisen. Die Musterverträge sollen insofern auch dazu dienen, Gemeinsamkeiten hervorzuheben und Divergenzen abzutragen.
The conception of model contracts
The Institute for Information, Telecommunications and Media Law (ITM) in Münster is currently drafting model contracts to be concluded between the individual demonstrators and users of the FAIR Data Spaces. In addition to general civil law regulations, aspects of copyright and confidentiality law will be addressed. The following questions may be mentioned as examples: Who "owns" the data sets? How far does the right of use extend and to what extent is the use of data controlled? What liability exists for faulty data? To what extent are confidentiality agreements necessary and expedient? These questions must be addressed by clear contractual provisions in the data use agreements between demonstrators and users. Of course, it must be taken into account that the linking of Gaia-X and NFDI unites two divergent legal cultures, which also show differences from a legal perspective. In this respect, the model contracts should also serve to emphasize commonalities and to remove divergences.
 +++
Zweckbindung von Daten
Das FIZ Karlsruhe beschäftigt sich derzeit mit der datenschutzrechtlichen Zweckbindung der Daten. Grundlage hierfür ist die Frage nach der Nachnutzbarkeit von Daten und einer möglichen Zweckänderung in verschiedenen Use Cases. Dabei stellt sich die Frage, was der Begriff Forschung hier bedeutet, welche Auswirkungen eine Zweckänderung auf Auftragsverarbeiter hat und ob eine zulässige Zweckänderung die Notwendigkeit einer Rechtsgrundlage für die Weiterverarbeitung lockert. Die Ergebnisse dieser Analyse fließen in die Diskussionen rund um die Entwicklung der FAIR Data Spaces Demonstratoren ein.
Appropriation of data
FIZ Karlsruhe is currently working on the purpose limitation of data under data protection law. The basis for this is the question of the subsequent usability of data and a possible change of purpose in various use cases. This raises the question of what the term research means here, what impact a change of purpose has on processors, and whether a permissible change of purpose relaxes the need for a legal basis for further processing. The results of this analysis will feed into the discussions around the development of the FAIR Data Spaces demonstrators.
 +++
Demonstrator-Entwicklung schreitet voran
Das Single Sign-on im NFDI4Biodiversity-Demonstrator wurde in den letzten Wochen verfeinert und weiterentwickelt. Auf Basis der vorangegangen projektinternen Architekturworkshops im Mai und Juni 2022 wurde eine Authentifizierung mittels OpenID Connect umgesetzt. Die Funktionalität kann in Zukunft angepasst werden, um eine Identität in mehreren Komponenten der Gesamtarchitektur zu verwenden.
Development of demonstrator progresses
The single sign-on in the NFDI4Biodiversity demonstrator has been refined in recent weeks and further developed. Based on the previous project internal architecture workshops in May and June 2022, authentication using OpenID Connect was implemented. The functionality can be adapted in the future to use one identity in multiple components of the overall architecture.
 +++
Fortsetzung der ELSA-Workshopreihe
Im September fanden zwei weitere Workshops zur Erstellung eines ELSA-Curriculums für Datenwissenschaftler*innen statt, bei denen ein erster Ansatz für ein ELSA-Curriculum projektintern vorgestellt wurde. Während der Workshops diskutierten Projektteilnehmende, die an den rechtlichen und ethischen Rahmenbedingungen arbeiten, sowie Projektteilnehmende, die mit dem Aufbau der technischen Grundlagen und der Entwicklung der Demonstratoren beschäftigt sind, den vorgestellten Ansatz für die Lehrplanentwicklung. Die Workshops brachten wertvolles Feedback, das in die Formulierung der ersten Version des ELSA-Curriculums am Ende des Jahres einfließen wird, welche voraussichtlich Anfang 2023 in einem offenen Workshop mit der Bitte um Kommentare vorgestellt wird.
ELSA workshop series continues
Two more workshops towards creating an ELSA curriculum for data scientists took place in September, during which a first approach to an ELSA curriculum was presented project-internally. During the workshops, project participants working on the legal and ethical framework as well as project participants active in building the technical foundations and developing the demonstrators discussed the presented approach towards the curriculum development. The workshops yielded valuable feedback which will be used in the formulation of the first version of the ELSA curriculum at the end of the year, which is expected to be presented with a request for comments in an open workshop at the beginning of 2023.
 +++
Lernen Sie das Team kennen. Meet the team.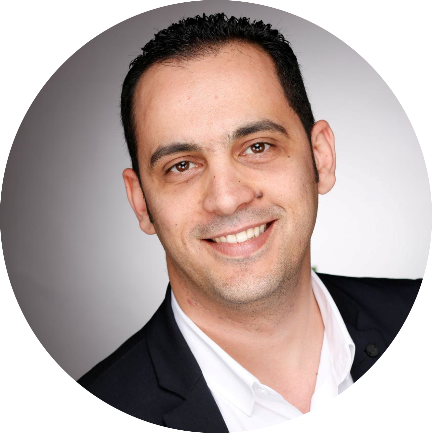 Hallo, ich bin Zeyd Boukhers. Ich bin Co-Leiter der Gruppe FAIR Data & Distributed Analytics am Fraunhofer-Institut für Angewandte Informationstechnik FIT. Ich bin im August 2022 dem Projekt als Koordinator und Leiter der zweiten Entwicklungsphase von FAIR Validation Services beigetreten. Bevor ich zu FAIR Data Spaces kam, war ich seit 2017 wissenschaftlicher Mitarbeiter an der Universität Koblenz-Landau. Davor war ich Doktorand an der Universität Siegen, wo ich im Bereich Mustererkennung promoviert habe. Neben FAIR-Daten forsche ich zu Themen aus den Bereichen Data Science und Natural Language Processing. Neben dem Eintauchen in Daten, tauche ich auch gerne unter Wasser und betreibe verschiedene Wassersportarten.
Hello, I am Zeyd Boukhers. I co-lead the group FAIR Data & Distributed Analytics at the Fraunhofer Institute for Applied Information Technology FIT. I joined the project in August 2022 as a co-coordinator and a leader of the second development phase of FAIR Validation Services. Before joining FAIR Data Spaces, I was a senior researcher at the University of Koblenz-Landau since 2017. Before that a PhD candidate at the University of Siegen, where I obtained a PhD in pattern recognition. In addition to FAIR data, I research topics in Data Science and Natural Language Processing. Besides diving into data, I also enjoy diving underwater and practicing different water sports.
FAIR Data Spaces Newsletter April 2023 (Nr. 5)
read more