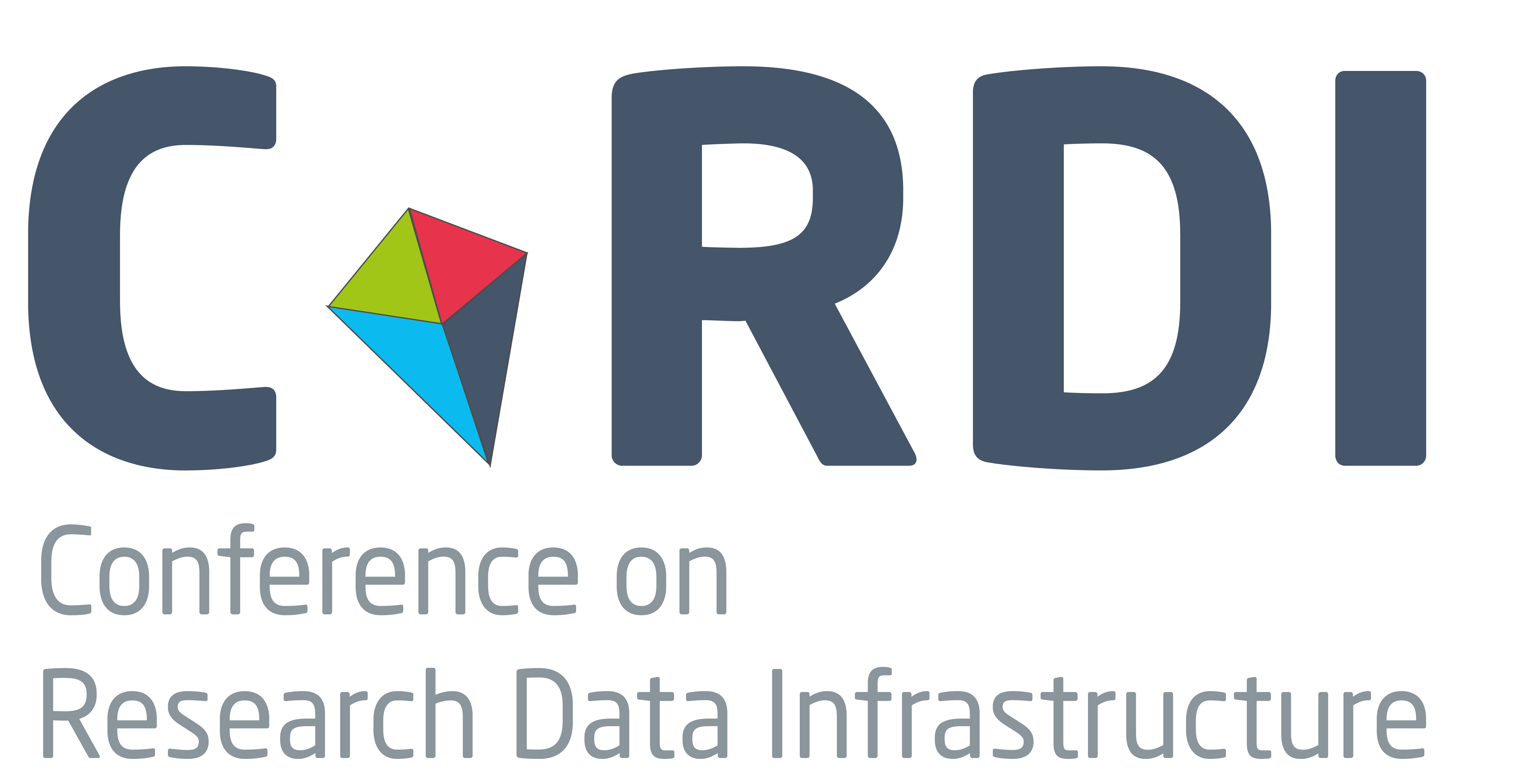 Poster Session I (Posters via Call for Posters, 12 Sep, 17:30-19:00 h)
| | | |
| --- | --- | --- |
| Poster ID | Title | Authors |
| | | |
| 2 | FAIR-IMPACT Expanding FAIR solutions across EOSC: With the ambitious goal to realise a European Open Science Cloud (EOSC) of FAIR data and services, the FAIR-IMPACT project supports the implementation of FAIR-enabling practices, tools and services across scientific communities and research outputs at a European, national and institutional level. | Sara Pittonet Gaiarin, Ingrid Dillo, Clément Jonquet, Kevin Ashley |
| 3 | Research data management practices at Universities of Applied Sciences in Germany: Evidence from a nationwide mixed methods study | Robert Werth, Arnela Balic |
| 4 | Cross-disciplinary Working Group: InfraDMP | Daniela Hausen, Jürgen Windeck |
| 5 | Who is using Knowledge Graphs in NFDI? An overview by the Working Group "Knowledge Graphs" | Fidan Limani, Renat Shigapov, Auriol Degbelo, Sonja Schimmler, Benjamin Zapilko, Lozana Rossenova, Stefan Dietze, Konrad U. Förstner, Saurav Karmakar, Andreas Czerniak |
| 6 | Inclusion in Research Data Management: Current Situation and Implementation Potentials | Alexandra Axtmann, Tina Hinz, Jan Sebastian Klaes, Anja Perry, Cord Wiljes |
| 7 | Landscaping European Competence Centres: Skills4EOSC Case Study | L. Berberi, E. Lazzeri, C. Leister |
| 8 | Towards a Framework to ensure Sustainability in the Research Data Infrastructures | Claudia-Melania Chituc |
| 9 | FAIR-IMPACT Introduction on exposing repository trustworthiness status and FAIR data assessments outcomes: The FAIR-IMPACT project supports the implementation of FAIR-enabling practices, tools and services. Guidelines and a prototype on trustworthiness will showcase that exposing (meta)data as well as accompanying evidence and breaking up information silos, adds value to certification, discovery portals and assessment. | Robert Huber, Hervé L'Hours, Mike Priddy, Robert Ulrich, Maaike Verburg, Loek Brinkman |
| 10 | Search and Harvesting across NFDI consortia: Gaps and Challenges | Brigitte Mathiak, Heinrich Widmann, Gerhard Heyer, Christin Henzen, Andreas Czerniak |
| 11 | Creating a Catalogue for Shared (IT) Services: Advantages and obstacles to service accessibility – from the perspective of a Berlin University Alliance project | Jenny Schmiedel, Maik Bierwirth, Kerstin Helbig, Albert Geukes, Malte Dreyer |
| 12 | Der NRW FD Storage | Florian Willems, Thomas Eifert |
| 14 | More than the Sum of its Parts – Specialised Information Services and Text+ as complementary Infrastructures | Eric Eggert, Nils Geißler, Tobias Gradl, Kilian Hensen, Josef Peter Jeschke, Anna Lingnau, Daniela Schulz, Johannes von Vacano, Lukas Weimer |
| 15 | Building for Diversity in the Humanities and Cultural Studies: The Memorandum of Understanding Group in the NFDI (NFDI4Culture, NFDI4Memory, NFDI4Objects and Text+) | Christin Keller, Thorsten Trippel, Christian Vater, Lukas Weimer, John Wood |
| 16 | GlobaLID: A Research Data Infrastructure for the Lead Isotope Community in Archaeology | Thomas Rose, Sabine Klein, Katrin J. Westner, Yiu-Kang Hsu |
| 17 | Accounting for Open Science: Experiences and Open Questions | Fikir Worku Edossa, Joachim Gassen, Sebastian Geschonke, Jeremiah Lewis, Tobias Witter |
| 18 | Lessons learned from joining forces across disparate disciplines in the NFDI : The Conference on Research on Text Analytics | Ulrich Krieger, Thorsten Trippel |
| 19 | Chemotion ELN: An open-source electronic lab notebook for FAIR data | John Jolliffe, Felix Bach, Sonja Herres-Pawlis, Nicole Jung, Oliver Koepler, Johannes Liermann, Steffen Neumann, Matthias Razum, Christoph Steinbeck, Fabian Fink, Alexander Hoffmann, Pierre Tremouilha |
| 20 | Publication Standards in Chemistry and Beyond | N. A. Parks, T. G. Fischer, S. Herres-Pawlis, S. Neumann |
| 21 | Research Data Management and Data Flow in ROCK-IT: ROCK-IT – Demonstrator for Automation and Remote-Access to Synchrotron Beamlines | Jan-Dierk Grunwaldt, Christina Widmann, Julian Gethmann |
| 22 | Facilitate the reuse of data from public authorities in research | Ivonne Anders, Martin Schupfner, Deborah Niermann, Michael Borsche, Frank Kaspar, Frank Kratzenstein, Hannes Thiemann |
| 23 | PATOF: From the Past To the Future: Legacy Data in Small and Medium-Scale "PUNCH" Experiments – a Blueprint for PUNCH and Other Disciplines | Ding-Ze Hu, Martin Köhler, Thomas Schoerner |
| 24 | Prerequisites for FAIR Data in Heterogeneous Catalysis Research | Julia Schumann, Annette Trunschke |
| 25 | DAPHNE – metadata for photon and neutron users at German facilities | Frank Weber, Wiebke Lohstroh, Bridget Murphy |
| 26 | Artificial intelligence supported data provenance of DNA high-throughput sequencing data | Martin Bole, Jonas Coelho Kasmanas, Joao Pedro Saraiva, Ulisses Nunes da Rocha |
| 27 | Integrating Long-Term Access into DataPLANT Data Management Workflows : Towards common technical solutions | Rafael Gieschke, Klaus Rechert, Dirk von Suchodoletz |
| 28 | FAIR Development of Data-integrated AI to Detect Breathing Motion in Dynamic Lung MRI | Julian Grolig, Arnd Koeppe, Mark O. Wielpütz, Simon Triphan, Michael Selzer, Britta Nestler |
| 29 | Standards for Harmonization and Consensus of Data Elements or Variables in Medical Research Studies | Matthias Löbe, Franziska Jannasch, Carolina Schwedhelm |
| 30 | Optimizing User Support through Synergistic Inte-gration of Helpdesk Systems: A Case Study of NFDI4Biodiversity and DataPLANT | Judith Sophie Engel, Ivaylo Kostadinov, Jimena Linares, Kevin Frey, Dirk von Suchodoletz, Cristina Martins Rodrigues |
| 31 | Euro-BioImaging ERIC: European Research Infrastructure Consortium for open access to biological and biomedical imaging and data services | Aastha Mathur, Isabel Kemmer, Bugra Özdemir, Beatriz Serrano-Solano, Antje Keppler |
| 32 | Secure and Decentralized Messaging with the Matrix Chat Protocol: Enhancing Communication and Collaboration in Life Sciences Research through Matrix Integration with ELIXIR Federated Authentication | Halima Saker, Jens Krüger, Amir Baleghi, Holger Gauza, Alexander Kirbis, Hamed Jalali, Suvasini Thangaraj, Simon Pirkl |
| 33 | Dr: VirJenDB: the comprehensive virus database based in Jena | Noriko Cassman, Shahram Saghaei, Manja Marz |
| 34 | Using Container Ontologies Built on ISA for (Meta)data quality analysis in Transcriptomics | Hannah Dörpholz, Angela Kranz, Björn Usadel |
| 35 | Domain-specific Metadata Modelling for GHGA | Karoline Mauer, Anandhi Iyappan, Paul Menges, Galina Tremper, Bilge Sürün, Kersten Breuer, Léon Kuchenbecker, Thomas Ulas, Sven Nahnsen, Joachim L. Schultze, Peer Bork and the GHGA consortium |
| 36 | From the GFBio Terminology Service to BiodivPortal: A Terminology Repository and Service for Biodiversity with the OntoPortal Technology | Naouel Karam, Adrian Paschke |
| 37 | The DataPLANT Ontology Landscape – How to use Ontologies for Data Annotation | Angela Kranz, Kathryn Dumschott, Marcel Tschöpe, Kevin Frey, Timo Mühlhaus, Dirk von Suchodoletz, Björn Usadel |
| 38 | Combining the BIDS and ARC Directory Structures for Multimodal Research Data Organization | Torsten Stöter, Tobias Gottschall, Andrea Schrader, Peter Zentis, Monica Valencia-Schneider, Niraj Kandpal, Werner Zuschratter, Astrid Schauss, Timo Dickscheid, Timo Mühlhaus, Dirk von Suchodoletz |
| 39 | Data management for Microbiology research: NFDI4Microbiota | Cordula Hege, Carmen Paulmann, Barbara Götz, Konrad U. Förstner, Alice McHardy |
| 40 | MetaProv: Provenance and usage of metagenome data, an NFDI4Microbiota Use Case | Jonas Kasmanas, Sanchita Kamath, Martin Bole, Ulisses Nunes da Rocha |
| 41 | FAIRagro – From the Community – For the Community – Involvement and Networking | Birte Lindstädt, Ulrike Stahl, Matthias Senft, James Anderson, Nikolai Svoboda |
| 42 | The role of standards in defining an ecosystem for Virtual Human Twins (VHTs) | Gerhard Mayer, Martin Golebiewski, Wolfgang Müller |
| 43 | GitLab as a tool for Research Data Management: Candidate for a Base4NFDI general service | Dirk von Suchodoletz, Dominik Brilhaus, Marcel Tschöpe, Jonathan Bauer |
| 44 | JupyterHub as a Service: On-Demand Course-Related JupyterHubs for Research and Teaching | Nils Mittler, Frank Förster, Alexander Goesmann, Burkhard Linke |
| 45 | Sustainable Research Software through Software Management Plans | Michael Franke, Yves Vincent Grossmann |
| 46 | Geodata Infrastructure for the Management of Railway Assets-Related Research Data: Storage and Publication of Infrastructure and Sensor Data in Railway Domain | Sangeetha Shankar, Laura Fischer Prestes, Akhil Jayant Patil, Julia Heinbockel, Angela Uschok, Lucas Andreas Schubert |
| 47 | (Do) We Produce FAIR Data | Nick Garabedian, Ilia Bagov, Malte Flachmann, Nuoyao Ye, Miłosz Meller, Floriane Bresser, Christian Greiner |
| 48 | FAIR Data Spaces: Building a common cloud-based data space for industry and science by linking Gaia-X and NFDI | Zeyd Boukhers, Daniela Mockler |
| 49 | Shared Tasks within NFDI4DataScience and Beyond: The Community Development of Data Science and AI Services | Jennifer D'Souza, Georg Rehm, Stefan Dietze, Sonja Schimmler |
| 50 | Making Data Management feel easy: Integration of a Hyrax Data Repository into the Research Process | Johannes Frenzel, Alexander Esser, Marlene Pacharra, Tobias Otto, Andreas Schramm, Raisa Barthauer, Nina Olivia Caroline Winter |
| 51 | RO-Crate Time Series Exporter: for the Building Consumption Data of KIT Campus North | Jan Schweikert, Marian Turowski, Viktoria Köbe, Wolfgang Süß, Veit Hagenmeyer |
| 52 | Jarves: A Framework for Research Data Management in Engineering Sciences: The Joint Assistant for Research in Engineering Sciences | Tobias Hamann, Jonas Maximilian Werheid |
| 53 | Metadata: The Not-So-Secret Ingredient for FAIR Research Data in Helmholtz | Christine Lemster, Constanze Curdt, Sören Lorenz |
Poster Session II (Posters via Call for Papers, 13 Sep, 09:00-10:30 h)
Poster ID
Title
Authors
1
Transparency and Involvement of the Energy-Related Industry in a Data Sharing Platform
Zhiyu Pan, Gonca Gurses-Tran, Christina Speck, Patrick Jaquart, Michael Niebisch, Antonello Monti
2
NFDI4DS Gateway and Portal
Ricardo Usbeck, Tilahun Abedissa Taffa, Rudy Alexandro Garrido Veliz,

Rana Abdullah, Najeebullah Sham, Bianca Wentzel, Zongxiong Chen,

Sonja Schimmler

3
CorWiz a Platform for Exploring Corrosion Data and Accessing Corrosion Models
Sven Berger, Aravinth Ravikumar, Mikhail Zheludkevic, Daniel Hoeche
4
Ontology-Based Laboratory Data Acquisition with EnzymeML for Process Simulation of Biocatalytic Reactors
Alexander S. Behr, Elnaz Abbaspour, Katrin Rosenthal, Jürgen Pleiss, Norbert Kockmann
5
Enhancing Reproducibility in Research through FAIR Digital Objects
Zeyd Boukhers, Leyla Jael Castro
6
Quality Assessment for Research Data Management in Research Projects
Max Leo Wawer, Roland Lachmayer
7
Opportunities and Limits of a Disciplinary Repository Using the Example MO|RE data (eResearch Infrastructure for Motor Research Data)
Katja Klemm, Hannah Kron, Alexander Woll, Klaus Bös, Claudia Niessner
8
Swiss-AL: Platform for Language Data in Applied Sciences: On challenges in the field of Language Open Research Data
Julia Krasselt, Philipp Dreesen, and Peter Stücheli-Herlach
9
Distributed Computing and Storage Infrastructure for PUNCH4NFDI
C. Wissing, B. Bheemalingappa Sagar, M. Blank-Burian,A. Drabent, S. Fleischer, O. Freyermuth, M. Giffels,A. Henke, M. Hoeft, J. Künsemöller, N. Malavasi,C. Manazano, B. Roland, H. Simma,D. Schwarz , K. Schwarz,N. Suvvi Neelakantaia, L. Vomberg, C. Voss, V. Vybornov, M. Wigard, S. Wozniewski
10
NFDI4Earth: Improving Research Data Management in the Earth System Sciences
Lars Bernard, Christin Henzen, Auriol Degbelo, Daniel Nüst, Jörg Seegert
11
Several partners – joint effort: RDM synergies in large scale research
Astrid Schneidewind, Kilian Schwarz,Thomas Schörner, Bridget M. Murphy, Martin Erdmann
12
PUNCH4NFDI: Science Data Platform and Digital Research Product
Harry Enke, Thomas Schörner-Sadenius
13
PIDs in the Natural Sciences
Thomas Schörner, Anton Barty, Markus Demleitner, Harry Enke, Oliver Koepler, Martin Köhler, Bridget Murphy, Sonja Schimmler, Lisa-Marie Stein
14
Harmonising, Harvesting, and Searching Metadata across a Repository Federation
Steffen Neumann, Felix Bach, Leyla Castro, Tillmann G. Fischer, Stefan Hofmann, Pei-Chi Huang, Nicole Jung, Bhavin Katabathuni, Fabian Mauz, Rene Meier, Venkata Chandrasekhar Nainala, Noura Rayya, Christoph Steinbeck, Oliver Koepler
15
ICT Infrastructure supporting the Italian Research Infrastructure on Microbial Resources MIRRI-IT
Marco Beccuti, Antonio d'Acierno, Simone Donetti, Sandro Gepiro Contaldo, Paolo Romano, Giovanna Cristina Varese
16
The Data Steward Service Center (DSSC): FAIRagro RDM-expertise hub
Nikolai Svoboda, Lucia Vedder, Franziska Böhm, Markus Möller, Elena Rey-Mazón, Marcus Schmidt, Birte Lindstädt, Ulrike Stahl
17
Interactive Tools (IT) in Galaxy
Tunc Kayikcioglu
18
FAIRmat guide to writing data management plans: A practical guide for the condensed-matter physics and materials-science communities
Ahmed E. Mansour, Lucia Rotheray,Kerstin Helbig, Silvana Botti, Heiko B. Weber, Martin Aeschlimann, Claudia Draxl
19
Spreading the Love for Mathematical Research Data
Tabea Bacher, Christiane Görgen, Tabea Krause, Andreas Matt, Daniel Ramos, Bianca Violet
20
Because Data Shall Grow (and we with it)
Julia Rakers, Daniel Nüst, Bernhard Miller, Julia Mohrbacher, Torsten Schrade, Jörg Seegert, Holger Simon, Christian Vater, Cord Wiljes
21
Building the Next Generation of Data Savvy Biomedical Researchers
Jens Dierkes, Birte Lindstädt , Ulrich Sax , Canan Hastik, Julia Fürst, Tanja Hörner, Sebastian Klammt, Ines Perrar, Iris Pigeot, Katja Restel, Carsten Oliver Schmidt, Aliaksandra Shutsko, Dagmar Waltemath, Atinkut Zeleke
22
One Resource to Teach Them All
Dominik Brilhaus , Martin Kuhl , Cristina Martins Rodrigues , Andrea Schrader
23
RDM Services at the Luxembourg National Data Service
Wei Gu, Christophe Trefois, Pinar Alper, Danielle Welter, Yohan Jarosz, Jacek Lebioda, Linda Ebermann, Regina Becker, Venkata Satagopam, Reinhard Schneider, Bert Verdonck
24
FDO to Structure the Domain of Knowledge
P. Wittenburg, D. Koureas
25
Pathways Between National and European Research Infrastructures: a Humanities' Perspective
Nanette Rißler-Pipka, Regine Stein, Laure Barbot, Sally Chambers, Toma Tasovac, and Philipp Wieder
26
Embedding the de.NBI Cloud in the National Re-search Data Infrastructure Activities
Nils Hoffmann, Irena Maus, Sebastian Beier, Peter Belmann, Jan Krüger, Andreas Tauch, Alexander Sczyrba
27
MaRDMO Plugin: Document and Retrieve Workflows Using the MaRDI Portal
Marco Reidelbach, Eloi Ferrer, Marcus Weber
28
WissKI Viewer: Casual Access for WissKI Data Sets
Tom Wiesing
29
Exploring and Improving Workflows for the Donation and Curation of Research Data
Natalie Kiesler, Daniel Schiffner
30
Zarr: A Cloud-Optimized Storage for Interactive Access of Large Arrays
Josh Moore, Susanne Kunis
31
Data Management Plan Tools: Overview and Evaluation
Carina Becker, Carolin Hundt, Claudia Engelhardt, Johannes Sperling, Moritz Kurzweil, Ralph Müller-Pfefferkorn
32
Exchanging Research Data with SampleDB
Malte Deckers, Florian Rhiem
33
Establishing the Research Data Management Container in NFDIxCS
Firas Al Laban, Jan Bernoth, Michael Goedicke, Ulrike Lucke, Michael Striewe, Philipp Wieder, Ramin Yahyapour
34
RO-Crates meets FAIR Digital Objects
Leyla Jael Castro, Stian Soliland-Reyes, Dietrich Rebholz-Schuhmann
35
Automated Documentation of Reseach Processes Using RDM
Lars Griem, Richard Thelen, Michael Selzer
36
Improving the research desktop experience for OpenStack VDI: Integrating hardware accelerated rendering and remote transport
Dirk von Suchodoletz, Yi Sun, Jean-Karim Hériché
37
DataPLANT Cloud Oriented Service Infrastructure: Open for Integration and Adaptation
Dirk von Suchodoletz, Jonathan Bauer, Marcel Tschöpe
38
Conda, Container and Bots: How to build and maintain tool dependencies in workflows and training materials
Paul Zierep, Björn Grüning
39
Architectural Design of BERD Information Portal
Ahmed Saleh, Klaus Tochtermann
40
Digital Twin-Based Concept for Reliable Research Data Management: Integrating Proprietary Data Sources for Hyperspectral Imaging
Alessa Rache,Tim Häußermann,Joel Lehmann, Julian Reichwald
41
Ten Simple Rules for Designing and Building a FAIR Research Infrastructure
Sharif Islam
43
Introducing JuOSC
Monica Gonzalez-Marquez, Ms. Schmahl
44
When Data Crosses Borders – Join Forces! Multidisciplinary Use Cases Within NFDI
Barbara Ebert, Sami Domisch, Christin Henzen, Jimena Linares, Kati Mozygemba, Bernhard Miller, Bernhard Seeger, Jörg Seegert
45
 A FAIR Future for Engineering Sciences: Linking an RDM Community through a scientific journal
Izadora Silva Pimenta, Kevin T. Logan, Michaela Leštáková, Peter F. Pelz
46
Castellum – a data protection-compliant web application for the subject
Karolina Mader
48
Terminologies in RDM for Engineering – a Service Approach: NFDI4Ing Terminology Service
Angelina Kraft, Felix Engel, Axel Klinger
49
Metadata Fields and Quality Criteria – XAS Reference Database under DAPHNE4NFDI
Abhijeet Gaur, Sebastian Paripsa, Frank Förste, Dmitry Doronkin, Wolfgang Malzer, Christopher Schlesiger, Birgit Kanngießer, Dirk Lützenkirchen-Hecht, Edmund Welter, Jan-Dierk Grunwaldt
50
FAIRification of Historical Geodata: Automated Metadata Extraction from Archival Maps
Hendrik Herold, André Hartmann, Anna Lisa Schwartz, Michael Hellstern, Markus Schmalzl
51
FAIR assessment practices: Experiences from KonsortSWD and BERD@NFDI
Janete Saldanha Bach, Fidan Limani, Atif Latif, Yudong Zhang,

Brigitte Mathiak, Peter Mutschke

52
Monitoring the state of open and FAIR data in Helmholtz: A data-harvesting and dashboard-approach by HMC
Gabriel Preuß, Alexander Schmidt, Mojeeb Sedeqi, Vivien Serve, Oonagh Mannix, Markus Kubin
53
DALIA FAIR Open Educational Federation: Aggregation, Harmonisation, Curation, and Quality Assurance with DALIA
Canan Hastik, Gábor Kismihók, Frank Lange, and Petra C. Steiner
Two separate poster sessions
There will be two separate poster sessions during CoRDI. The first poster session is dedicated to the presentation of accepted submissions to the Call for Papers. The presented extended abstracts are "accepted as poster" and they will be published as part of the Proceedings. The second poster session is dedicated to the presentation of submissions accepted for the Call for Posters. Theses posters will be published as part of the CoRDI zenodo Community: https://zenodo.org/communities/cordi-2023/ 
Poster design specifications
Please note the following poster design specifications:
Size up to DIN A0

Upright format (short side top and bottom, long side sideways)

Placement of the CoRDI logo possible: Download
It is expected that at least one author of each accepted poster registers for attending the conference. Please bring your poster in a printed version and hang it on the poster wall with the corresponding poster ID. This will be possible some minutes before your poster session starts. Take the poster home after the session – we will not keep it.
Site map for poster sessions: Download
We would like to thank our community for numerous paper submissions.
Due to the large number of submissions, the deadlines for the review process and for the poster submissions had been extended.
Extended Abstract submissions due:

July 7, 2023

Extended Abstract notifications due:

August 4, 2023

Conference days: September 12-14,  2023
All deadlines are midnight UTC time. 
More information about the programme can be found at: https://www.nfdi.de/cordi-2023/?lang=en